travel back in time at the Palo Alto--
Our creative designer, Stephanie Watson, designed this historical wedding plantation venue's landscaping with a European garden feel in mind that really brings the estate to life! To catch a glimpse of our past custom designed, personal, and elegant touches on weddings at the Palo Alto, view our gallery below or follow us on social media!
The Palo Alto Plantation features more than enough room to house a ceremony, cocktail hour, and reception all in one location. The Mr. and Mrs. also have the option to marry at a sweet little church right down the road from the home and take a romantic horse and carriage ride back to their reception.
Imagine your guests dining at our handmade farm tables and dancing the night away on the gorgeous stone patio with bubble lights overhead!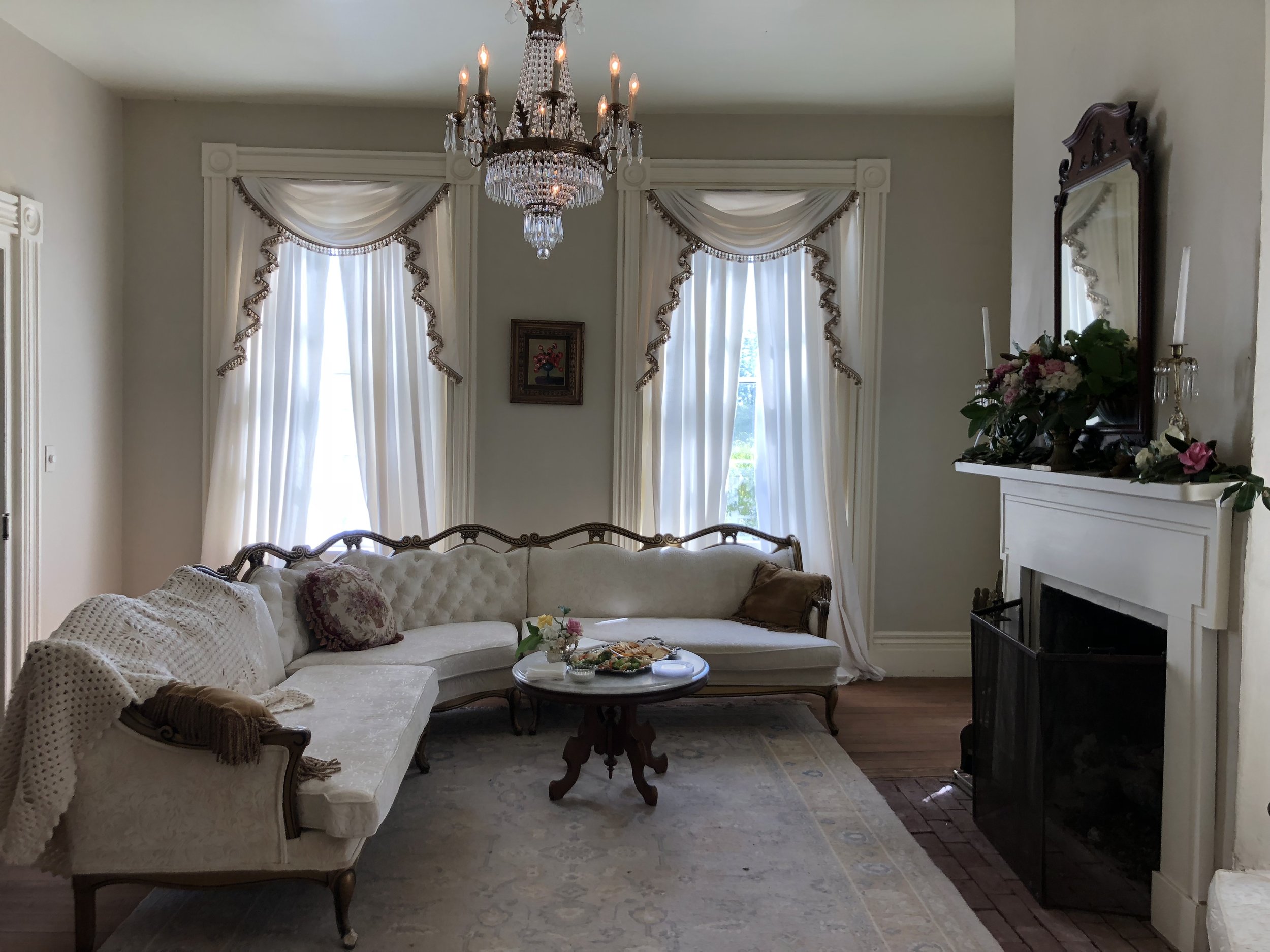 This private plantation home sits on three acres of historic Civil War history and is said to be one of the oldest homes in Onslow County.
A little bit of history about the Palo Alto..
The Palo Alto was built sometime in 1836 and was owned by David Sanders.
The Palo Alto Plantation was once the center of a vast agricultural operation that included 9,500 acres. The Palo Alto was most known for its corn and cotton.
Sanders became the wealthiest planters in North Carolina during this time. David Sanders left his estate to his grandson Daniel Russell Jr. David was born in the house and ended up being the governor of North Carolina from 1897-1901. When Sanders passed away in 1860, the estate was worth $275,000. David would not be of age until 1866 to take over the plantation.
In 1863 & 1864 the Union Troops in Eastern North Carolina believed that confederate forces were gathering in Swansboro and Sneads Ferry and they carried their soldiers past The Palo Alto and it ruined the livestock and scared away anyone living there.
Amenitiesoffered:
Three acre garden designed landscaping complete with antique fountains and a breathtaking sycamore tree lined entrance

Ceremony site complete with custom built church pews and arbor

Alternate ceremony site at the Tabernacle Church three miles down the road

Open air stone patio with bubble lights strung overhead

Indoor lounge area complete with romantic chandeliers

Bridal Suite

Private parking for guests

One restroom

Eight refurbished fireplaces

Short drive to Crystal Coast Beaches- Emerald Isle, Atlantic Beach, Jacksonville, and New Bern